Business analytics
Beat the competition with data analytics from Biqsens
Biqsens gathers data from diverse sources and transforms it into actionable business insights. It helps directors, managers, sales representatives, and marketers make better decisions, accurately forecast trends, and respond to changes faster than their competitors.
It is one of the most secure and user-friendly analytics platforms – Biqsens is based on Microsoft Power BI and Azure tools.
Data that will help your company grow
Many companies struggle to effectively utilize data or integrate it with each other. Managers face difficulties navigating through the maze of information regarding performance, customers, resources, workflow, and partners. The challenge lies in accessing data, aggregating and analyzing it, as well as providing it to the right people at the right time.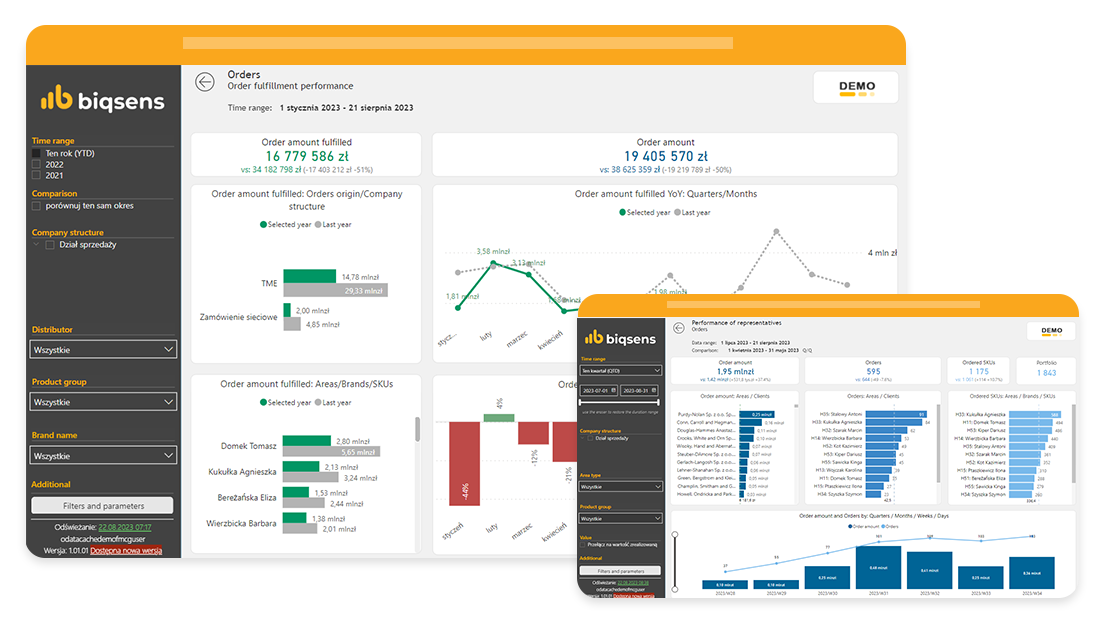 Biqsens addresses all these problems by enabling the transformation of information into tangible results for your company. The management team and employees have access to the necessary data at their fingertips, which they can utilize for organizational development.
You will gain a comprehensive view of your company's operations
You will derive valuable insights
You will have convenient access to key data
You will be able to create automated, interactive reports
You will integrate data from different sources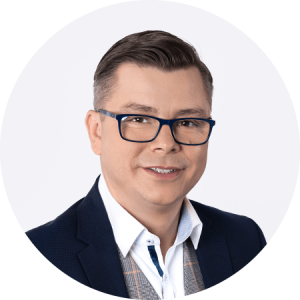 Take advantage of a free consultation and see how we can help automate sales processes in your company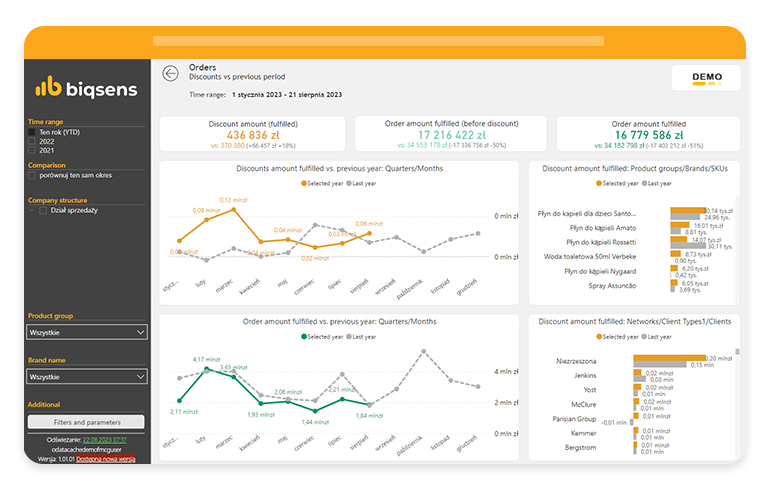 Access to information
How can Biqsens assist you?
Biqsens will grant you access to information that was previously challenging or even impossible to acquire. You will obtain a comprehensive and detailed perspective of the situation.
Role-based authorized data access
The Regional Sales Manager, Sales Director, Marketer, and Sales Representative — everyone will receive data sets relevant to their roles in the organization.
Management and distribution of analytics
You can manage analytics, create custom dashboards with the most critical reports, and easily share these analytics with appropriate individuals within your organization.
Executing actions directly from the report
Thanks to applications embedded in the reports, you can react swiftly and take necessary actions. For instance, you can send a restocking suggestion to the wholesaler for products that are running low.
Report translations
You can instantly translate Power BI reports into 106 languages using Power Translate — a tool specifically designed for automatic report translation.
Analytics templates
You have the option to use more than 75 pre-designed analytics related to sales, distribution, and work efficiency. Alternatively, you can create your own analytics using the drag and drop method.
Efficient handling of large data sets
Data is visualized in a manner that allows for convenient analysis. You can quickly obtain necessary information and draw conclusions.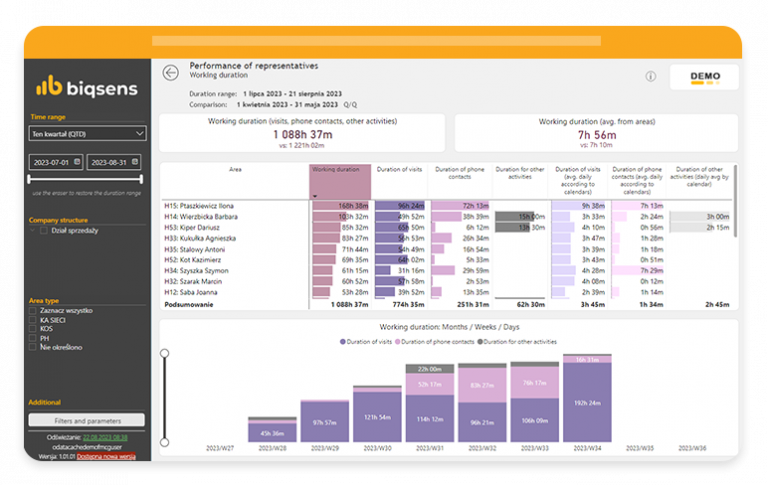 About platform
What makes BIQSENS unique?
Biqsens combines unique features that allow you not only to comfortably analyze data, but also to take care of their security.
Drag&Drop
The flexible creator allows you to independently construct your own dashboards with key indicators, on both desktop and mobile devices.
Real-time analytics
The near real-time data update allows you to stay up-to-date with the situation and react instantly as needed.
Access from any device
You can analyze data at any moment, from any place in the world, through both desktop and mobile devices.
Protection against unauthorized access
The Biqsens platform takes roles within the organization into account and safeguards data against unauthorized access.
Integration with data from MS Excel
You can import data directly from MS Excel.
Security
Biqsens is supported by Microsoft Azure, a leading platform among secure and user-friendly cloud computing services.
First Polish certified connector
Biqsens utilizes the Emigo Data Source — the first Polish, certified, public connector for Microsoft Power BI Desktop.
All data in one place
Biqsens enables the analysis of merged data from various sources — the Emigo platform, or business partner systems. It presents this data in a convenient format and aids in a comprehensive analysis.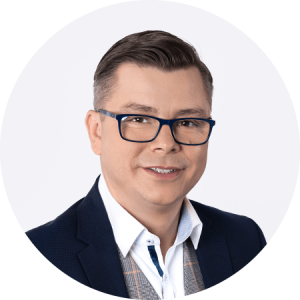 Take advantage of a free consultation and see how we can help automate sales processes in your company



Biqsens is a trusted and secure source of knowledge
The Biqsens platform is built upon the most advanced analytical tools on the market — Microsoft Power BI and Azure cloud.
As a certified, long-standing Microsoft Partner Network, we possess competencies that reinforce our position as data analytics and Business Intelligence experts. We will assist you in creating your own business reports and preparing solutions tailored to the unique needs of your organization.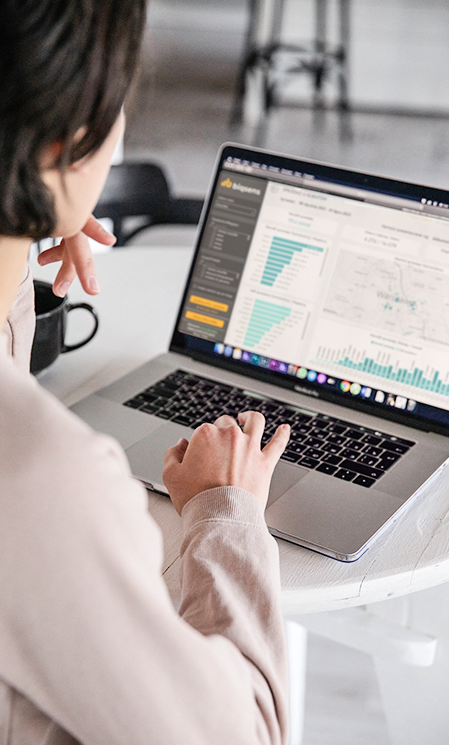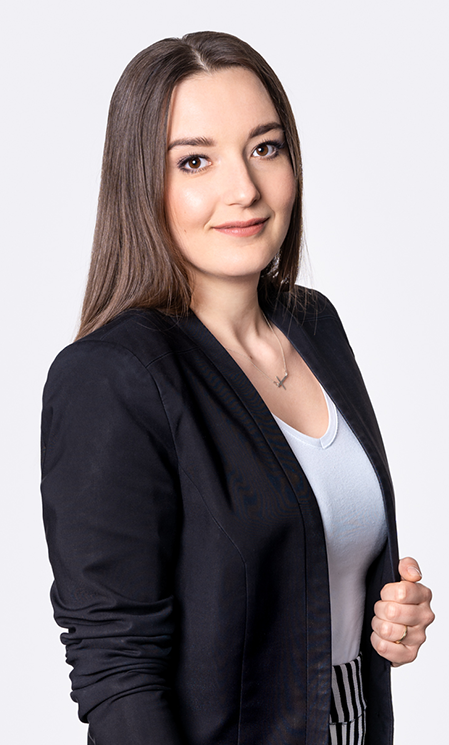 Thanks to Biqsens, you know at which stage your company is and how far you still have to go to reach your goal
Within Biqsens, you will receive sophisticated analytical models delivered in the form of visualizations of specific areas or business processes. You can view all the data in one place, monitor the progress towards your goals, and react when actions do not yield the intended results.
Małgorzata Skendzielewska

Business Intelligence Manager
What do our clients who use Biqsens say?
Thanks to Biqsens, Polpharma is able to quickly and efficiently analyze data obtained from merchandising research using Image Recognition. This way, we always know the level of compliance with our display standards
Agnieszka Kordacka,
Senior Marketing Manager

A breakthrough moment was the implementation of Biqsens analytics. Without comprehensive and cross-sectional data, business analysis and trend research were very challenging. Today, we have ready-made BI reports that allow us to verify data at the operational and strategic levels in real-time and support making informed decisions.
Jarosław Idzik,
Kierownik Sekcji Rozliczeń i Analiz

Biqsens analytics have made the analysis of data provided by the Emigo system, Sales Identification Service, and Integra system fast and straightforward, which has facilitated significant sales growth in a short period
Jarosław Jankowski,
Commercial & Supply Chain Forecasting Specialist

Are you wondering if Biqsens will actually help you?
Biqsens platform is for you if:
You want to identify the reasons for unfulfilled orders, assess the efficiency of specific chains, monitor major customers, and have real-time control over the activities of representatives
You want to quickly respond to emerging opportunities and threats
You want to manage your company basing on reliable, real-time data
Easy access to information about processes, customers, workflow, and partners is important to you
You are looking for a business analytics platform that can be tailored to your specific needs without the need for hiring a programmer
You need a tool that allows for automatic translation of reports into other languages and quick delivery to selected individuals in your organization
You want to prevent issues, make more accurate sales forecasts, and discover relationships between information from different sources
Biqsens platform is not for you if:
You don't want your company to operate faster, more agile, and on a larger scale
Your company is doing well without access to general and detailed data
Managing your business based on intuition works well in your industry
Consult the implementation of BIQSENS in your company
Fill out the form and find out what benefits the Biqsens platform will bring to your company. You can inquire about any detail – our experience is at your disposal.
We will get back to you immediately!